Primal Play
Placenta print, acrylic and ink, 2018
A commission artwork that depicts the birth story of a woman who faced her fear with laughter, dancing and ruthless courage. She described her experience as "reaching into her brain" in order to overcome the sensations of immense pain and to joyfully give birth to another human being.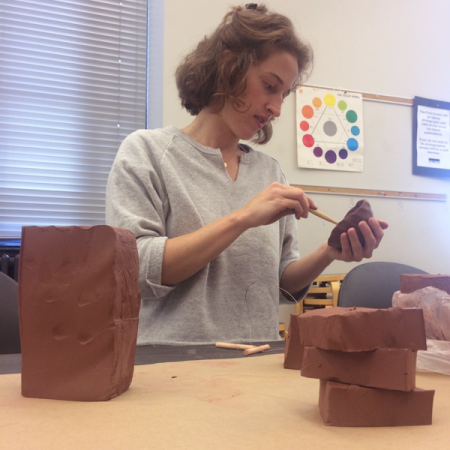 Palate
Earthenware and audio, 2017
An installation of ceramic pinch pots, Palate depicts the shape of a tongue and the individual taste buds. Community participants shaped each taste bud out of clay and took part in blind taste-tests of six different foods. Their responses were recorded and compiled into a symphony of sounds to accompany the ceramic tongue, symbolizing the complexity, diversity, and interconnected nature of human perception and personal taste.
This community project was built in collaboration with the Frist Center for the Visual Arts in Nashville, TN.
Photographs by John Schweikert.
Mother Tongue
Bamboo and acrylic, 2017
A suspended sculpture that beckons a conversation with nature. Bamboo columns dangle from a simple construction that includes natural and synthetic materials as well as muted and vibrant colors. Although natural elements such as wind and rain will cause the columns to chime against one another, viewers are invited to gently manipulate the central clapper and experience the joy of listening.
This project was built in collaboration with the Blue Heron Nature Preserve in Atlanta, GA.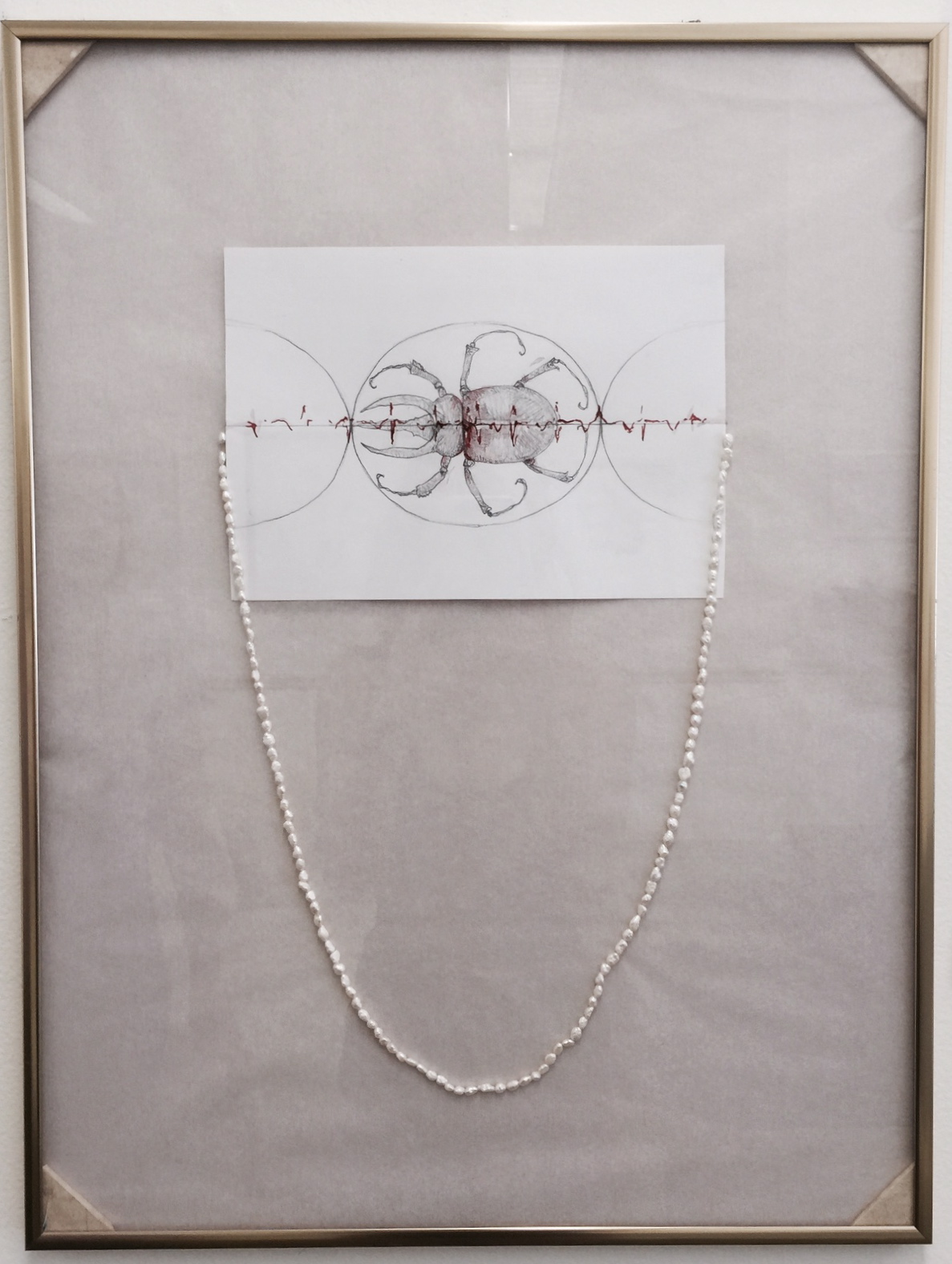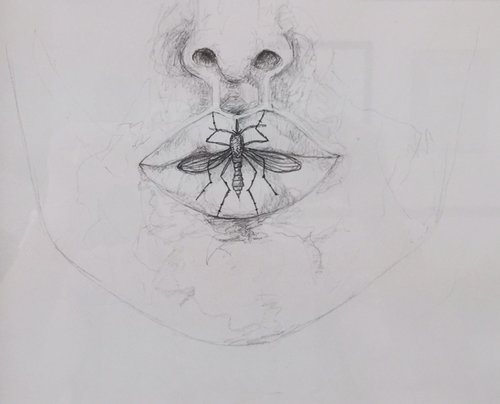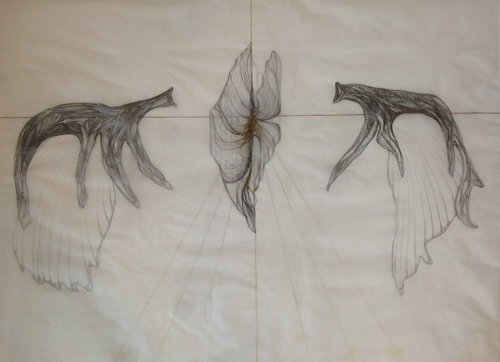 Sentience
Graphite and mixed media, 2015 - 2016
A drawing series that dissects the capacity to feel. By exploring the literal definitions and semantic limitations of what it means to have sensory perception, this growing collection of drawings highlights the paradox of discernment. Perhaps there is more than one way to feel and more entities than we think who are deserving of our respect and care.
Bridge Between
Three-part interactive sculpture series, 2014
Pursuit of Question is an wooden sculpture made with handmade flax paper, rayon, and buckwheat hulls. Viewers are invited to climb the stairs of the structure and reach inside to explore a pocket of unfamiliar materials, symbolizing the act of curiosity and our human nature of questioning the unknown.
Origin is a collection of hanging ceramic drums made with goat skin, hemp rope, and tree logs. Viewers are invited to gently play the drums and observe the spatial relationships between sounds and their initial causes.
Capsuled Void is a metal hammock made with burlap fabric, woven brass, packing paper, and Locust pods. Reclining in the womb-like space, viewers are invited to experience the sensations of suspension through time, space, and surrounding materials.
Shifted
Mixed media collection, 2014
A series that offers a tilted perspective of mundane experience, perhaps exploring a lighter interpretation of the overwhelming reality that often accompanies existentialism.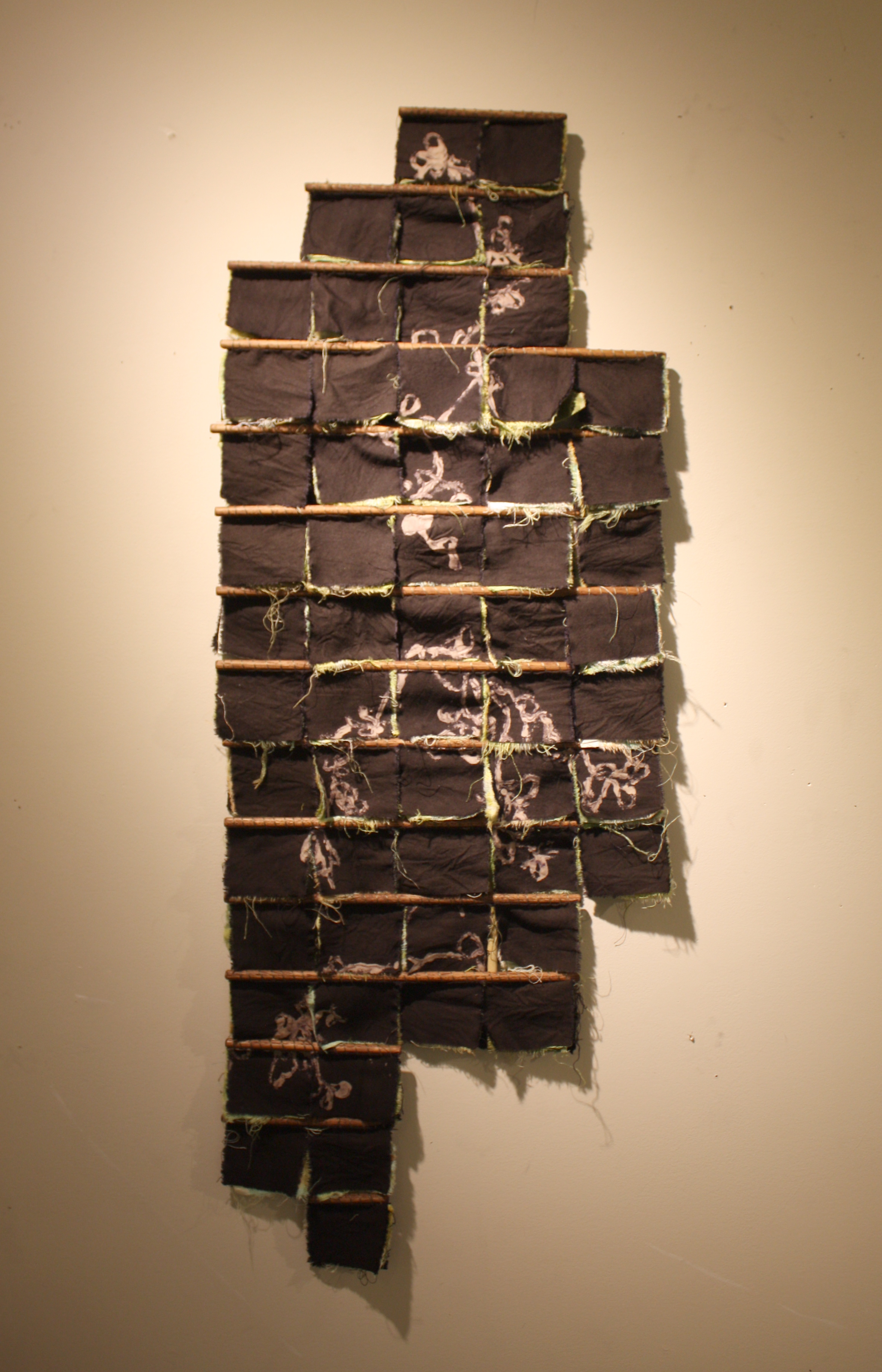 Assimilate
Ceramic, fiber, metal, 2013
An unintentional body of work that reflects the convergence of Yogic theory and material exploration. This collection of mixed media sculptures depicts the personal process of integration as the artist's foundation of knowledge and experience expanded.
Departure
Stoneware and flax paper, 2012
A body of work that emerged from a newly learned approach to art making, one that embraced non-objectivity and emphasized curiosity through playfulness.